Multimedia Resources for Resilience: Paris and the Final Writing Assignment
susan_bernstein
Author
Mark as New

Mark as Read

Bookmark

Subscribe
The final writing assignment, in my experience, needs to reflect the reality of the many competing concerns that occupy students' time at the end of the term. Because these concerns hold potential to interfere with the writing process, I want to work with students to adapt their writing processes to facilitate successful completion of the course.
Students' concerns may be played out publicly in national or international news events or catastrophes, or perhaps more privately in the experiences of students' everyday lives. Indeed, no matter how attentive we are as teachers, the issues our students face may remain invisible to us. What we perceive as boredom, hostility, inattention, or hyperactivity may in fact be expressions of anxiety, hunger, exhaustion, or frustration.
For these reasons, according to the assignment sequence posted here on Bedford Bits in July, I intended the final writing assignment to focus on "resilience for first-year students nearing the end of their first semester in college." I had tried to design the final assignment with a more personal focus. Nonetheless, in my own classroom, students remained uncertain how, and especially why, to claim ownership of this assignment.
The world has transformed many times over in the four months since I offered that assignment sequence in my syllabus and as a Bits post. Now, in November, the students felt restless. Even as we worked diligently on textual analysis, the students asked for a final writing project that would allow them to engage more directly with their own experiences and opinions. Although I suggested ideas for including personal experience and opinion as supplements for supporting evidence, the first two assignments relied mainly on close and careful comprehension of and engagement with particular texts for supporting examples and analysis.
So in class, we discussed how and why students needed to include references in their final assignment: to reach out to the audience with academic supporting evidence. I assigned the readings linked to this assignment, two brief articles on resilience research and public policy by Bari Walsh, published in the Harvard Graduate School of Education Newsletter, for exactly this purpose. In summarizing the research, Walsh suggests that: "Resilience can be built; it's not an innate trait or a resource that can be used up."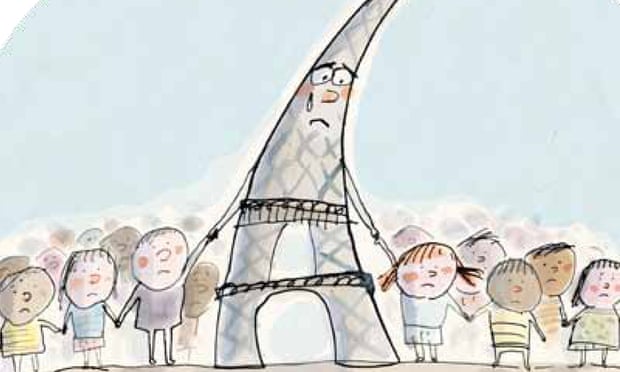 To open the conversation, I composed an example of how to connect the resilience research to recent current events. While I began with the illustration of the weeping Eiffel Tower, the students recommended that I add the video of a father and his young son discussing the aftermath of the attacks. Through the revision and our discussion of the multimedia texts, we found an opportunity to push beyond how to cite sources, and to began to approach why resilience matters. Here is the revised example:
At the end of this long semester, I look forward to reading the students' final writing assignments, and to learning the many perspectives that students bring to fostering resilience.
[Image source: Astrapi Attentats de Paris : les bons mots pour expliquer aux enfants - Astrapi ]
You must be a registered user to add a comment. If you've already registered, sign in. Otherwise, register and sign in.